This page is inspired in the uses.tech movement and its main goal is to share with you what things I use on my daily life, from hardware to software. It might not be accurate at all times, but I try to update it every now and then to make sure it is up to date.
📟 Hardware
Laptop
2021 MacBook Pro 14"
Headphones
Sony WH-1000XM5
Earphones
AirPods Pro (2nd Gen)
Console
Nintendo Switch, PlayStation 5
Auth Device
YubiKeys, for 2FA, GPG and SSH
Wallet
Secrit, for my cards and spare bills
KeyChain
Orbitkey Key Organizer
💼 Coworking Space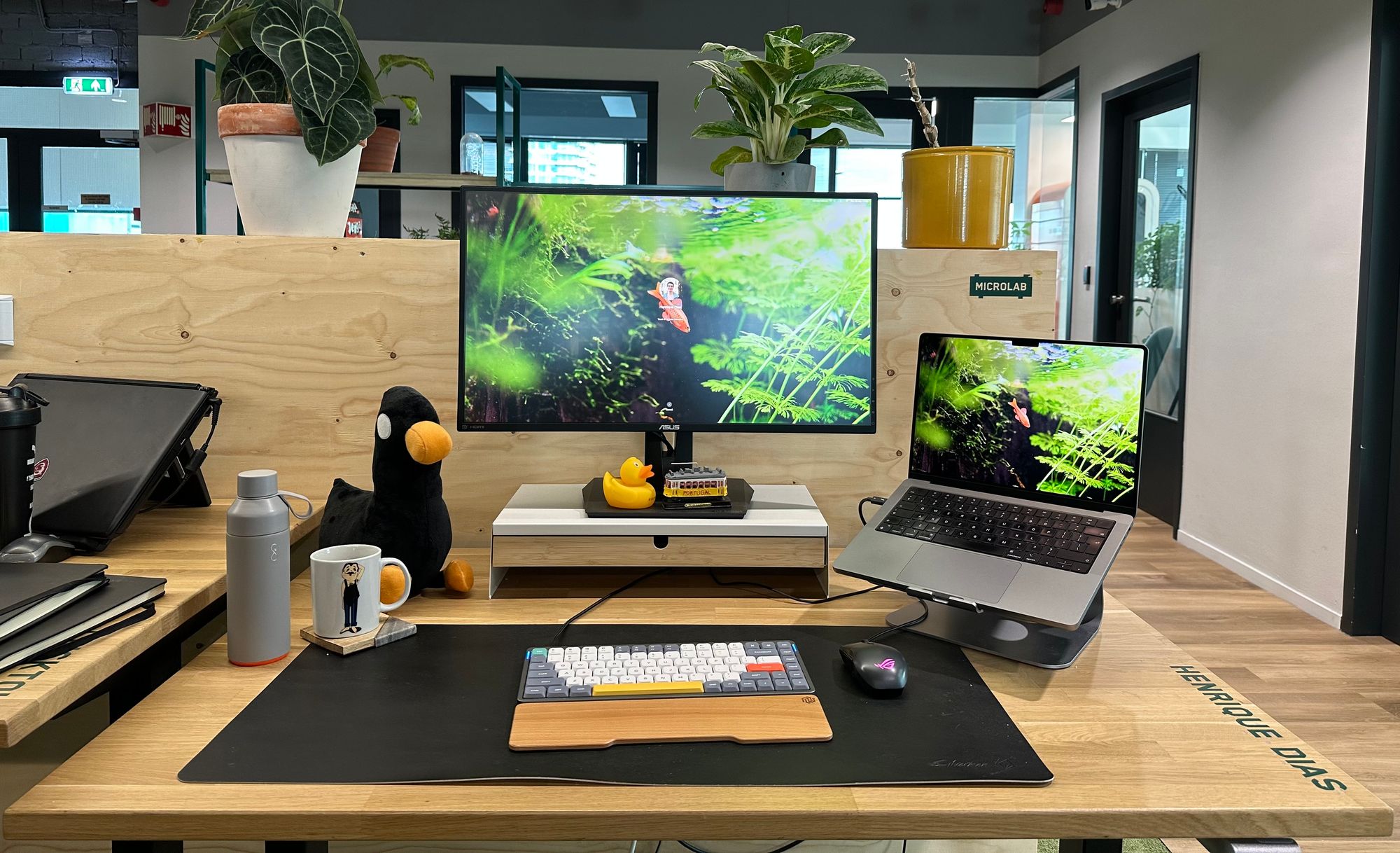 I rent a desk at Microlab Eindhoven, where I go on my daily basis to work. Being in a coworking space allows me to separate work from personal things. Besides, since my work is fully remote, going to a coworking place is also a way of interacting with others in-person.
Desk
Unknown Manual Adjustable Desk (Rented)
Chair
Herman Miller Mirra (Rented)
Monitor Stand
IKEA ELLOVEN
🏡 Home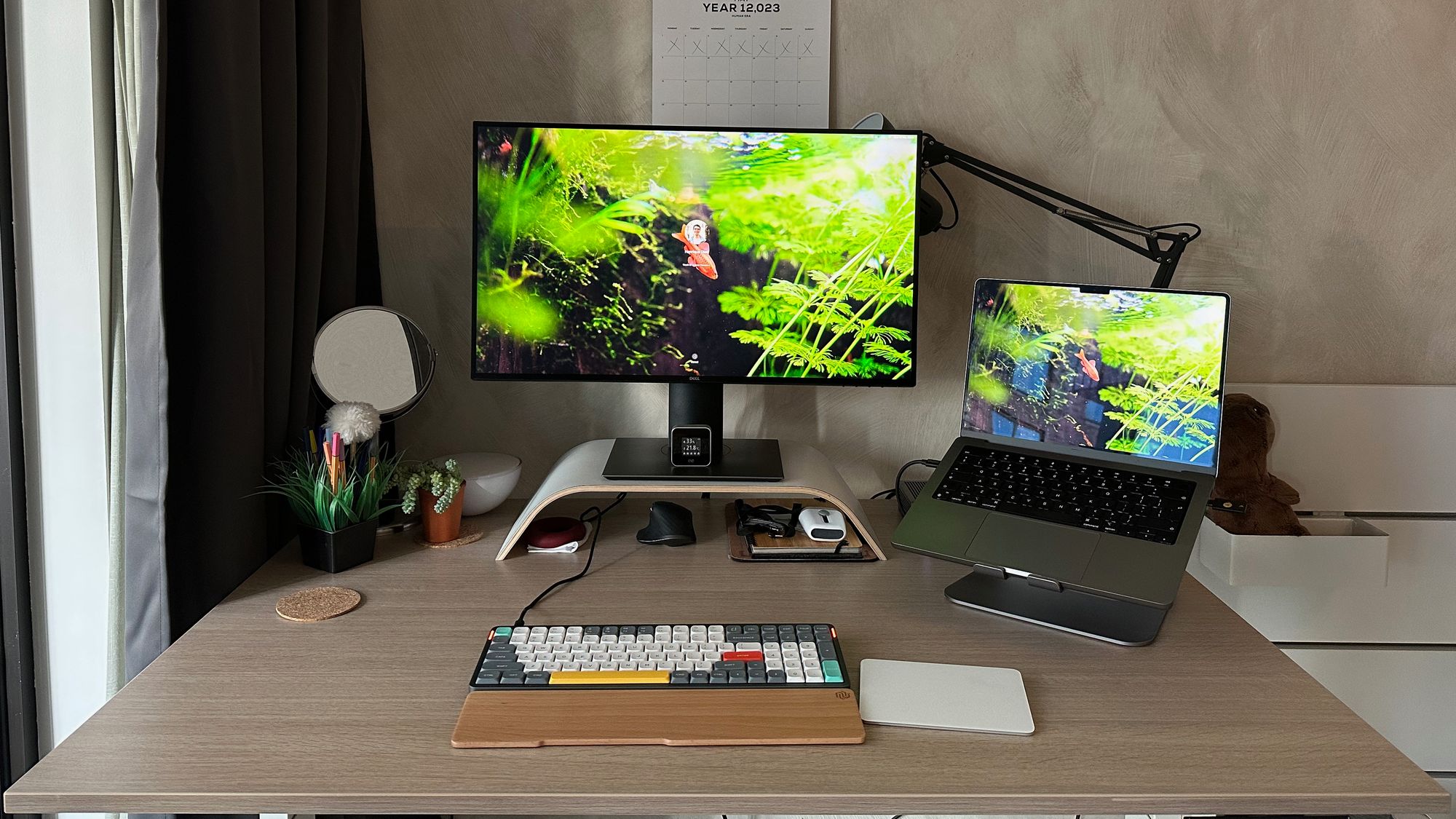 At home I also have a desk with some things. This desk is used by my partner or I when we have to work from home, or if we want to do computer else on our laptops but we prefer to use a desk for it. I'm personally a desk person, and I much rather prefer having a desk than just using the laptop as-is.
Desk
Ahrend Balance Solo (Electric, 120 x 80)
Monitor Stand
IKEA SIGFINN
Keyboard
NuPhy Air 96, Magic Keyboard
Mouse
Magic Trackpad, Logitech G502 X
Laptop Stand
Rain mStand, The Roost v3
📷 Photography
On the photography department, I currently own a Fuji X-T4. The pictures that come out of it are fantastic. However, it is a bit of a mess to edit Fuji RAWs due to the way they're encoded. I'm using Capture One for that. Maybe I'll write about it one day.
Lenses
XF 18-55mm f/2.8-4.0 OIS, XF 27mm F/2.8
📀 Software
The list below contains some of my favorite software, or software that I use on a daily basis that is crucial for my work. Some of the things mentioned are self-hosted in an Hetzner VPS.
Operating System
macOS, iOS, Linux (Alpine usually)
Browser
Chrome on macOS, Safari on iOS
Email
Native macOS and iOS apps
Email Provider
Gmail and
Migadu
. I am looking for an alternative to Migadu that has more clear development and official support for calendar and contacts management.
Calendar
Native macOS and iOS apps
Password Manager
1Password
URL Shortener
goshort
- I have not used it that much, but it's a nice to have. I'm looking forward to having more use cases for it though.
🌐 Domains
This is a list of the domains I currently own, with an explanation for each. These domains are registered in different registrars, namely Namecheap, PTServidor, and Porkbun. I used to have a page dedicated just for this, but I don't think that's worth it. But it's still fun to share!